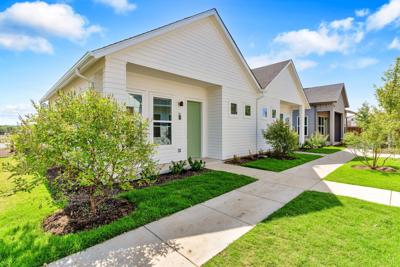 With mortgage interest rates in Texas hovering around 7.5% and low inventory driving up home prices, many would-be homebuyers are staying put. But whether purchasing a house is in the cards or not, many renters still want the perks that come with homeownership, such as privacy and yard space. That's where build-to-rent communities come in.
Growing fast in the real estate market, the developments combine the community amenities of apartment living — such as pools, tennis courts and clubhouses — with the perks of single-family homes.
"It's providing rental housing solutions for people that don't really want to be in a typical suburban garden apartment complex, but also either can't afford to buy a single-family home or don't necessarily want to," said David West, partner at real estate development firm Good + West.
Perch Denton, the first build-to-rent concept to come to the city, was developed by Good + West. Located behind Rayzor Ranch Town Center on North Bonnie Brae Street, Perch Denton offers one-, two- and three-bedroom cottage-style homes. Apart from the one-bedroom duplexes, all the rentals are standalone units with no shared walls, and each has a fenced private yard, walk-in closets, modern appliances, smart thermostats and locks, and a laundry room with a washer and dryer.
Covered parking and private garages are also available, and residents can enjoy amenities like a community pool and pavilion, dog park, fitness center, business lounge, pickleball court and walking trails. With yard and home maintenance taken care of, the "lock and leave" rentals appeal to a range of people who want the convenience of upscale leasing, from couples to empty nesters, West says.
Given the state of the housing market and the growing demand for middle-of-the-road options, more developers are adding build-to-rent communities to their portfolios. Good + West has two upcoming build-to-rent projects outside of Denton — one in southwest Fort Worth that will begin construction later this year and another in Austin planned for the spring.
"It's an exploding category in the real estate sector," West says.
Unlike traditional apartments, the rentals "are new, resemble their for-sale counterparts, and offer a taste of homeownership without steep purchase prices, maintenance costs, real estate and school taxes, or homeowners association fees," as Realtor Magazine explains. They're also not as vulnerable to market whims.
Of course, that convenience comes at a premium. Cottage-style units rent for an additional 10% to 20% over other rentals of the same size. One-bedroom units at Perch Denton, which are 706 square feet, start at $1,795, two bedrooms at $2,295 and three bedrooms at $2,695. But people are willing to pay for the increased privacy and at-home feel they might not find at an apartment, West says.
About 60 of the 195 units have been built out, with just under a dozen leased so far and construction expected to wrap up around January.
"As cities and towns grow, they need more housing diversity, and there's a need for quality, well-designed rental housing," West said. "We believe we're filling that void."
To see floor plans and learn more about the development, visit perchdenton.com.
AMBER GAUDET can be reached at 940-566-6889 and agaudet@dentonrc.com.